Oxford Summer Programme ━ jointly organised by HKSYU and Hertford College of Oxford University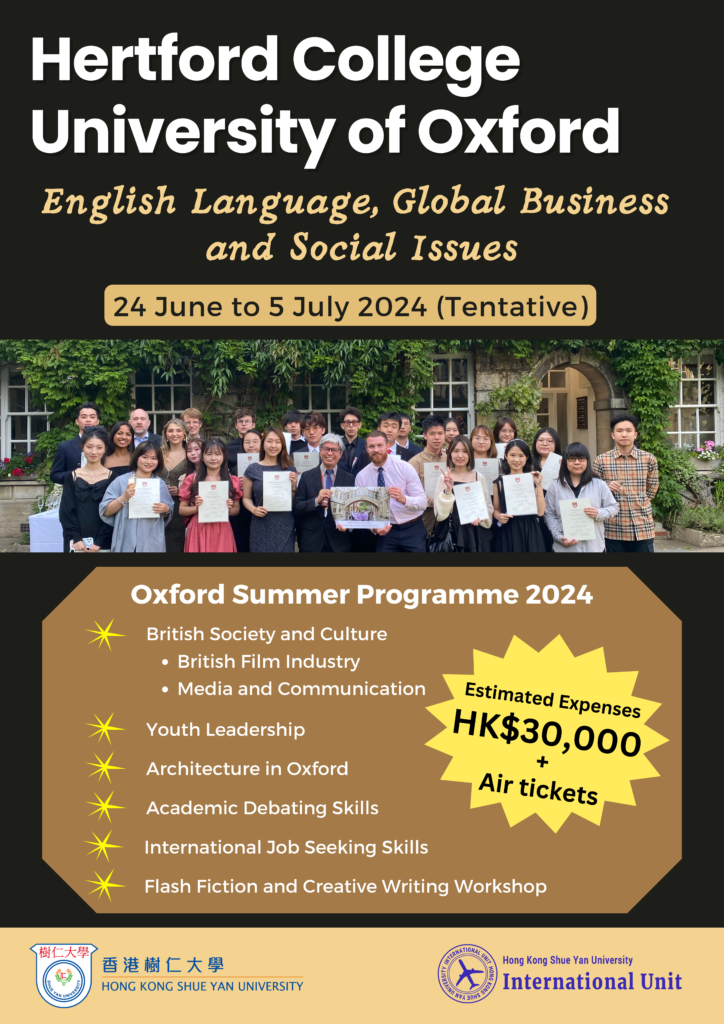 Introduction
Hertford College, one of the oldest of Oxford University's 38 colleges, was founded in 1282. Located in the centre of historic Oxford, the beautiful college boasts the Bridge of Sighs, which is one of the most famous sights of the city. This is an ideal setting for students wishing to improve their language skills and knowledge of Britain and British culture.
This on-site two-week summer school is one of the shortlisted summer programmes eligible for HKSYU's credit-bearing Summer Abroad Scheme (GEC206).
Programme Dates
24 June – 5 July 2024  (2 weeks) (Tentative)
Application Deadline
To be confirmed
Programme Fee
HK$30,000 (to be confirmed)

(including prorgamme fee, accommodation, insurance, transportation, meals on class days and trip days)

On top of the programme fee, participants will need to pay for their round-trip air tickets and incidentals.

Accommodation
Included in the programme fee
* The currency has been converted to HK dollars for your reference.
Information Session
Date: 21 November 2023 (Tuesday)
Time: 5:30pm
Venue: RLG 101, Low Block, Research Complex
Guests: Ms. Caroline Rice & Mr. Andrew Hemingway (Co-Directors of International Programmes, Hertford College, University of Oxford)
Register here to express your interest in the 2024 Summer Programme at Oxford University.
Submission of Application
Submit an application to the International Unit and attend an interview.
Students who are accepted to join the summer programme may participate in the Credit-bearing Summer Abroad Scheme by enrolling in GEC 206 Experiential Learning for Global Citizenship on or before 30 April 2023.
The International Unit will brief you on issues related to this summer programme, guide you through submitting an application to the organiser, purchase insurance coverage and arrange accommodation for all participants. You will need to purchase air tickets, secure a proper visa (if applicable), etc.
Education Bureau's Scholarship / Subsidy
Reaching Out Award
Please contact the Office of Student Affairs (OSA) for more details.
Means-tested Subsidy
Students receiving means-tested student financial assistance from the Student Finance Office (SFO) or whose families are receiving Comprehensive Social Security Assistance (CSSA) are eligible to apply for the Subsidy Scheme for Exchange Activities –
Scheme for Subsidy on Exchange for

Post-secondary Students (SSE): With the

United Kingdom 

as the destination and

2 weeks

in duration, the maximum level of subsidy for the Subsidy Scheme on this summer school programme is 

HK$14,000. The amount for an eligible student is calculated by the approved level of student finance (in terms of percentage of full grant) to the maximum level of subsidy for the Subsidy Scheme.
Each student will only be eligible for assistance under the SSE ONCE throughout their study in programme(s) at the same level of study in Hong Kong, irrespective of the amount of subsidy received. If you are eligible for apply for SSE please submit your Application Form.
* For more information about the Education Bureau's Subsidy Scheme for Exchange Activities, please visit our website.
Enquiries
Please contact the International Unit by phone (2804-8407), email (studyabroad@hksyu.edu) or in person (RLB501 of Research Complex).