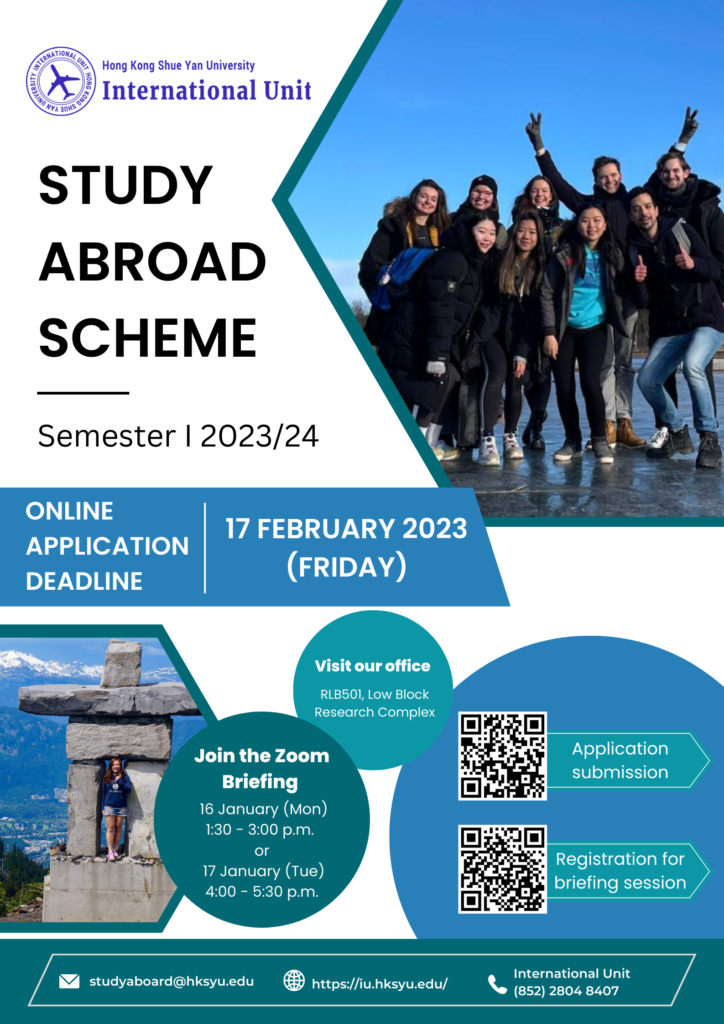 Dear students,
You are invited to apply for the Study Abroad Scheme by Friday 17 February 2023 and depart for exchange in Semester I of 2023/24. Grab the chance and learn more about the programme by visiting the webpage of the International Unit. You can choose from our 75+ partner universities in 30 different locations.
Welcome to sign up for our briefing sessions:
Monday 16 January 2023, 1:30-3:00 pm (in Cantonese)
Tuesday 17 January 2023, 4:00-5:30 pm (in Mandarin)
Students are highly recommended to submit their applications and depart for exchange in Y2 or Y3, as it may be easier to fulfill the course requirements after the exchange.
Besides Dr Li Dak Sum Student Exchange Scholarships and EDB subsidies, students with CGPA over 3.0 are welcome to apply for the Reaching Out Awards by submitting online applications through SPSS Scholarship Application System (https://websims.hksyu.edu:8128/) by 12 December 2022.
For enquiries, please contact the International Unit (Phone: 2804-8407; Email: studyabroad@hksyu.edu; Address: RLB501, Research Complex). Thank you.
Sincerely,
International Unit